Trump became a public figure and a celebrity at Time's apex. But more than that, Time is the perfect manifestation of Trump's attitude toward success. To understand why a person like Donald Trump would gravitate toward a magazine like Time, you have to look at both of their histories.
Related Stories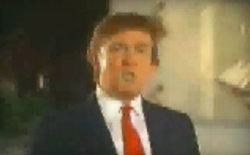 In the 1980s, when Time was still a cash cow and Trump was still cementing himself as a mainstay on Page Six, Time was a very serious publication and Trump was a semi-serious fixture in the tabloids. Cable news-Trump's preferred journalistic medium today-was still in its infancy. Trump seemed preordained for gossip-rag stardom: there was the personal drama-an ugly divorce, a dramatic altercation in Aspen, the alleged infidelity with a beautiful eventual-second-wife-and, of course, the very public bankruptcy and surprising redemption. Trump enjoyed relentless pop-cultural relevance through it all-he had a cameo in Home Alone 2, remember-and seemed forever destined for B-list celebrity at best. Looking back at the media landscape of Trump's younger years, the idea of Trump on the cover of Time seemed as silly as Trump buying the Plaza Hotel, or being elected president of the United States.
Donald Trump, we now know, is a man who is energized by the improbable.
Trump's wealth-and the persona he built around it-has always been aspirational. The sprawling expanses of cold marble, the New Jersey gold fixtures, the aggressively nouveau riche aesthetic. The superlatives that spill so easily from Trump's lips-everything's the biggest, and the best, and the most. Time wasn't so different at first. The magazine was founded by rich men playing with their fathers' money-no member of the founding staff was more than three years out of college, the magazine's historian Theodore Peterson once wrote. As my colleague Robinson Meyer and I wrote of Time in 2015, Time became the most powerful media instrument of midcentury America. In the early 1980s, as Trump was rising to fame, Time was absolutely flush with cash:
So flush," John Podhoretz wrote in Commentary, describing what it was like to work for Time in the 1980s, "that the first week I was there, the World section had a farewell lunch for a writer who was being sent to Paris to serve as bureau chief… at Lutèce, the most expensive restaurant in Manhattan, for 50 people. So flush that if you stayed past 8, you could take a limousine home… and take it anywhere, including to the Hamptons if you had weekend plans there. So flush that if a writer who lived, say, in suburban Connecticut, stayed late writing his article that week, he could stay in town at a hotel of his choice."
All of it sounds absurd today, as over-the-top as the very idea of "person of the year."